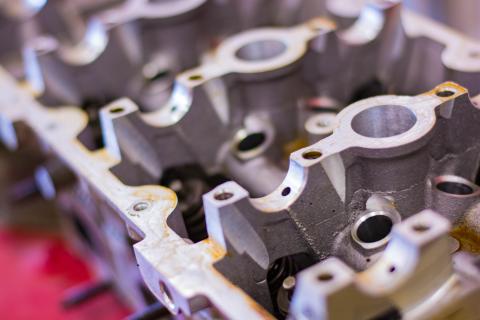 Campus Regina Public is unique in that they have the first student-driven shop in Regina.
The Auto Mechanics and ELA class is proud to have Capital Auto Mall as their corporate partners. The students enrolled are also responsible for completing a two week work experience term at Capital where they work in different departments including GMC Quick Lane, Ford Quick Lane, Universal Collision Center, Spa, and Parts. The students train one on one with the GMC and Ford Technicians. 
The CRP Auto and ELA program was developed with many industry partners including: Auto Parts Plus, Snap-On, Continental Engine Repair, SGI and Auto Electric Paint Department.
Students who are successful in our classes are provided with many opportunities to move directly into the automotive repair industry. In the four years the program has ran, Capital has hired over 20 students. Last year, CRP has also started a partnership with Kal Tire where the students are interviewed in-house and have the potential to gain employment. To date, they have hired over 15 of our students.
The students are trained using the latest industry standards and technologies. The program offers real hands-on training by starting students on practice cars and eventually move up to customer cars.
CRP Auto offers a variety of automotive service and repairs in a training environment. We accept a multitude of jobs including, but not limited to:
Oil Changes- 10.00 plus supplies
Tire Changes on Rims- $20.00
Tire Changes off Rims- $40.00
Wheel Alignments - $40.00
We also complete: Brakes, Steering and Suspension, Spark Plugs and Wires, and Filters.
Feel free to contact us at any time for a consultation or diagnosis.
Contact information: email: amy.ranford@rbe.sk.ca or 306-523-3326.