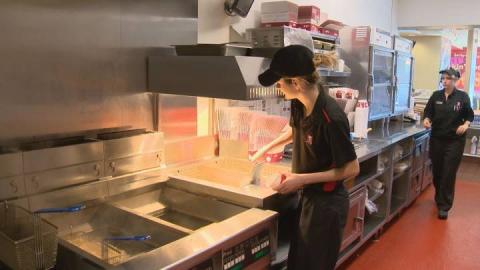 The following is an article from Global News: 
A Canadian Federation of Independent Business (CFIB) study found 56 per cent of Saskatchewan employers do not think high schools are properly preparing young people for today's jobs.
The group says schools are focusing more on higher education than practical skills, leaving a gap when teens start the hunt for their first jobs.
"Basic skills of being professional with customers, having a good attitude or being on time consistently and, not constantly being on your phone," CFIB vice-president of Prairie and agri-business Marilyn Braun-Pollon said.
CFIB would also like to see small businesses give schools input on curriculum.
The youth unemployment rate is almost double the national average.
The Regina Work Preparation Centre agrees it's an issue, but believes other factors like the economy and the use of online applications are also holding some young people back.
"The labour market is a bit tighter, it's harder to get into," executive director Ashley Boha said. "There are more skilled people looking for jobs. Young people are competing against people who have many more years than them that come with experience and, often, additional education."
"You're not able to actually talk to those employers as much as you used to when you walked in the door and handed in a resume. Being screened by a computer system among 100 other applicants makes it challenging for them to get into the workforce," Boha added.
It's not a problem that will be solved overnight, but one that will take a combined effort to tackle. At the end of the day, the groups say youth must also be willing to work hard and make an effort to ensure they're ready to enter the job market.
Kepke, Cami. "High School Not Preparing Young People for the Work World: Study." Global News, 12 Oct. 2018, globalnews.ca/news/4544206/high-school-not-preparing-young-people-for-the-work-world-study/?utm_source=GlobalRegina&utm_medium=Facebook&fbclid=IwAR252sqkSYv5PmYSXrY13xz9uv_QFtWY2iiBACYjbf1o6kajM0VPZtqg3Dw.
Photo Credit: Dave Parsons/ Global News