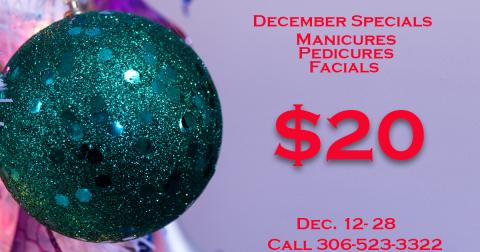 Our Cosmetology 20 class have created spa specials for this holiday season. All of our specials cost $20, and we're available for services at 10:10, 11:10, 1:00, and 2:00 from Monday - Friday Dec. 12- 21.
Services Include 
Pumpkin Pie Pedicure 
With this pedicure, at these prices, it will make you and your wallet feel as good as eating a piece of pie. Just come down to Campus Regina Public and get the pedicure that will make your Christmas break special.
Shellac is Back
Shellac is back this holiday season! This treatment will solve all your cracked and dry hand problems. The coconut and white ginger scrub will make your hands smooth and the lotion will leave your hands moisturized and you feeling refreshed. Having shellac nails is great because they will last and look amazing, especially for the holiday season. With all the stress around the holidays, treat yourself, sit back, relax and get your treatment for only $20. Paraffin dip for an additional $5
Frostmas Facial
Are you tire d of having dry winter skin? Well look no further and spend no more than $20 to look replenished for the Christmas holidays. Our facial provides a light mist that falls like the look of the frost on your windows. Our masks will provide you with the most replenished moisturized skin. Not only do you get a facial, but also a frosted Christmas cupcake. All this for only $20. You will never find a better deal.