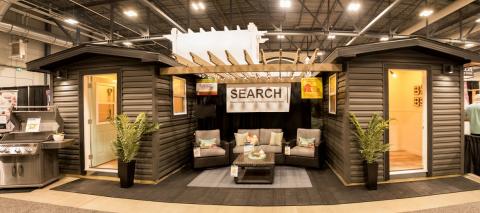 Fries Tallman Lumber: One of the Oldest Independently-Owned Retail Lumber Yards In Saskatchewan
IN SECTION: MEMBER PROFILE
By Stasa Veroukis-Regina, Marketing and Communications Manager
FAMILY-OWNED AND OPERATED since the beginning, Fries Tallman Lumber has been supplying lumber and building materials to Saskatchewan for 62 years. Kevin and Joan Stricker's vision is to continue the tradition that was started many years ago and provide exceptional service to their community. With two locations (Regina and Fort Qu'Appelle), their sales team takes pride in helping customers in a wide variety of projects, including new home construction, renovations, general repairs, and any building projects. Their large showrooms display many of the products they sell and allow customers to touch and feel products before buying.
One of the key aspects of their business is giving back to their community and incorporating charity work. On a recent member visit, Liz Kovach, WRLA President, and Wynne Au, WRLA Member Services Manager, got to see and hear about the community outreach and the level of local support Fries Tallman Lumber provides.
"A large part of what we do is give back to our local community," said Len Regier, Sales Manager at Fries Tallman Lumber in Regina. "It's always been like that and it continues to grow. Our community support started when the doors opened, and Kevin and Joan are very active in the community today, as well as encouraging all the team to be part of the efforts." A partial list of community initiatives includes Alzheimer's Dinner, MacKenzie Infant Care Centre, Canadian Red Cross, Regina Red Socks, Regina Thunder, Minor Hockey, Little League Baseball, Curling in Regina and the surrounding communities, the Regina Pats, and the Saskatchewan Roughriders.
Part of that commitment to community is a partnership with Campus Regina Public (CRP). The Regina Public School Division created Campus Regina Public in 2012. Its focus is providing exposure to career pathway opportunities for Grade 11 and 12 students in Regina Public Schools. CRP offers several courses including Advanced Construction Technology, Mechanics, Welding, Electrical, Fire Science, Health Sciences, Social Justice, Culinary Arts, Cosmetology, Video Game Production, Graphic Design, Engineering, Law, Public Safety and Policing, and Early Childhood Education. The team at Fries Tallman connected with a teacher, Eldon Hall, who teaches the Advanced Construction Technology course.
Eldon comes from a trades background and his focus is on getting the students the skills they need to go directly into the marketplace and be ready for the workforce. "I focus more on things like roofing, framing, door and window installs, siding, soffits, fascia that are more industry applicable skills. I also like to create partnerships with organizations like the masonry and bricklaying union to teach students those skills. These are the skills that will prepare a student to go directly into the workforce," Eldon said.
The school was looking for a partner in the industry at the start of the 2017 school year. "Fries Tallman has been a fantastic partner for us," said Eldon, "They supply us with all the materials we need to build the sheds. Then we give the completed sheds back to Fries and they sell them to their customers." For every shed built Fries Tallman gives back $500 to Campus Regina. Those funds are used to buy more tools or other equipment for the students.
"We offer them a connection into the LBM industry," said Len. "We can help a student connect to a future employer – even if it's not us, we can point them in the direction that they want to go. This program gives the students a project that is multi-faceted. They're learning framing, roofing, shingling, soffits, fascia, siding, learning to install windows and doors – all in one project."
One particularly successful project between Fries Tallman and the Advanced Construction Technology students was a shed construction that was featured at Regina's Spring Home and Garden Show. "Fries Tallman supplied all the material for the home studio/shed project," said Eldon. "They also connected us with the Regina Home Builder's Association who offered us space at the show to display our shed."
The students built a unique shed, which was very eye-catching and started a lot of conversations with attendees at the show, as well as parents of the students. Many people didn't know this program existed. The exposure at the show provided a good opportunity to showcase the work they do. The passion of the students was evident. "We had kids coming in on evenings and the Saturday right before the show to make sure the display looked good," Eldon said. "These projects end up in people's homes and that's a more impactful way to teach kids – they take more pride in their work and they can actually see their work in their own community."
The home studio shed was raffled off and the monies raised went to a nonprofit called SEARCH. SEARCH (Student Energy in Action in Regina for Community Health) is a student-run, interdisciplinary primary health care initiative situated in the North Central community of Regina. Approximately $10,000 was donated to SEARCH.
FRIES TALLMAN LUMBER
Website: friestallman.com
Facebook/Twitter/Instagram: @friestallman
CAMPUS REGINA PUBLIC
Website: campusreginapublic.rbe.sk.ca
Facebook/Instagram: @campusreginapublic
Twitter: @campusreginapub
SEARCH
Website: searchhealthclinic.com
Facebook: SEARCH – Student Energy in Action for Regina Community Health
Twitter: @SEARCHRegina
Instagram: @searchregina
This article was taken from Yardstick Magazine. The publication can be found at https://www.yardstick-digital.com/wrls/Store.action