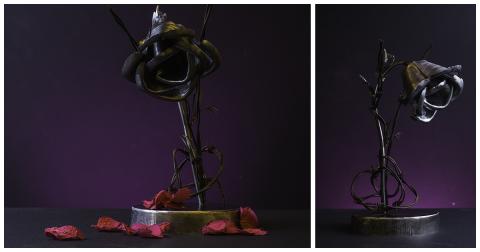 Regina Public Schools has offered students the opportunity to explore various career options when they attend Campus Regina Public. Many students try a variety of different courses and discover a skill set and passion for their new found interest area. This example is exemplified with Grade 12 student Savannah Behr. 
Savannah has first came to CRP in Grade 11, to try her hand at Cosmetology. She enjoyed her first semester, but wanted to try something new. In the second semester, she signed up for the welding program within the school. In that class, she was able to continue to show her creativity when she discovered metal art. 
It was a hard decision for her to make when she came back in Grade 12, she was torn between cosmetology and welding. Luckily, she did both!
This semester, she was commissioned by a teacher to create a metal rose, but with a creative and artistic touch. She spent a lot of time trying to combine different metals, and in the end the piece of art she created impressed students and teachers throughout the school.
Teachers are always excited to have students who can thrive in different areas within the school. Savannah did us proud in both Cosmetology and Welding.