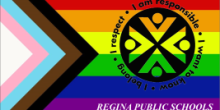 Regina Public Schools' system-wide Pride Day will take place on Friday, June 9th. 
CRP & Victoria Campus will celebrate with a Rainbow Day on June 9th. Students dressed in rainbow colours will be invited to come to the commons for a treat and a photo. The progressive pride flag will be on display in the commons throughout June. 
More information from the school division is below:
Throughout Saskatchewan, June is known as Gender and Sexual Diversity Pride Month! It is a time when the world's 2SLGBTQIAP+ communities and allies come together to celebrate acceptance, human rights and diversity.